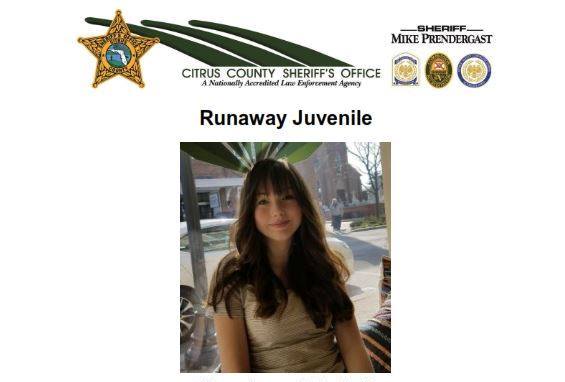 UPDATE: Detectives with the Citrus County Sheriff's Office received word that Olivia Dalene Caulder, was found in Georgia. No further information is available at this time.
On July 22, 2019, Olivia Dalene Caulder was reported as a runaway juvenile to the Citrus County Sheriff's Office.
Olivia is a 15-year-old white female, 5 feet 9 inches tall, 160 pounds, with brown hair and brown eyes.
According to the CCSO, she was last seen in the Inverness area on Monday, July 22 at approximately 7:00 A.M.
Officials said it is not known what Olivia was wearing at the time that she ran away, but she should be carrying a dark green shoulder bag with brown straps.
Olivia is not in possession of her cell phone.
If you have seen Olivia, or know her whereabouts, please contact the CCSO at 352-726-1121 and ask for the Major Crimes Unit.
To remain anonymous and possibly be eligible for a reward, contact Citrus County
Crime Stoppers at 1-888-269-8477 or online at www.crimestopperscitrus.com. Anonymity is guaranteed.