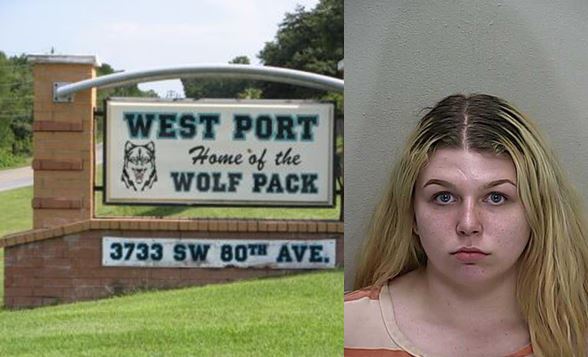 Ocala, Florida — A West Port High School student was arrested Wednesday and charged with Possession of a Weapon on School Grounds.
Robert MacMillan, the school Dean, notified the school resource officer that he had received a call about a Snapchat video which showed student Kayla Agee with a taser.
Agee had captioned the video, "LMFAO lets see if shorty still laughin wen I taz ha ass." [sic]
When questioned, Agee told the Ocala police officer that she had put the taser in her backpack when she went Trick-or-Treating and forgot about it.
School Dean Sarah Umholtz then confiscated Agee's phone and told her to enter the passcode. Dean Umholtz was able to locate the video on Agee's phone and then recorded the Snapchat video with her own phone.
The video showed Agee holding up her sweatshirt with the weapon in her waistband.
Ocala Post reached out to the Marion County School district and inquired about school policy on campus cell phone use and staff accessing a student's cell phone without a court order.
Marion County Public Schools Public Information Officer, Kevin Christian, said, "Mobile devices are allowed on campus but are to only be used during non-classroom time unless the teacher grants permission to do so. During investigations, administrators can request mobile device access from students if they have just cause."
On Thursday, Agee was released from the Marion County Jail on a $2,000 bond.